Creating an outdoor kitchen can be a lucrative investment for grilling aficionados or anyone who enjoys the great outdoors. You can also use it as an outdoor entertaining area to accommodate guests and celebrate special occasions like birthdays and holidays. However, building an outdoor kitchen requires creativity and patience. You have two options – hire a professional or go the DIY route. Either way, you have to consider various factors when building outdoor kitchens.
Outline:
Tips for Designing Outdoor Kitchens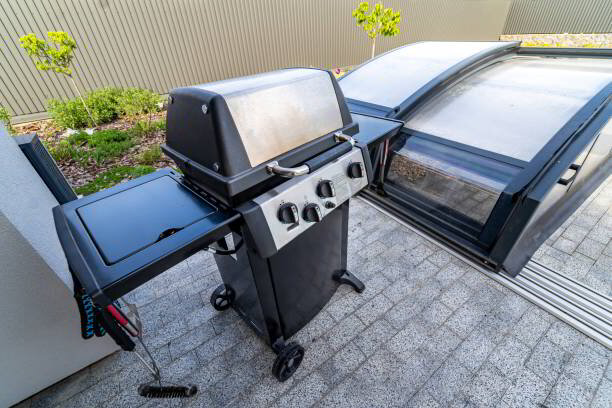 A functional outdoor kitchen can be a great asset for day-to-day living and entertaining guests. Whether you want to build a grilling station or a countertop overhang, here's what you need to consider before building an outdoor kitchen.
1. Location
The environment and climate will have an impact on the materials, open-season duration, and design of your outdoor kitchen. For instance, areas that experience extreme temperature changes should avoid natural stone and tile countertops because they risk cracking. Likewise, PVC should be avoided as it tends to bend and warp.
2. Functionality
Outdoor kitchens should have dry, wet, cold, and hot zones. Place all cooking appliances in the hot area and the ice makers and refrigeration in the cold area. Use the dry area for meal preparation and the wet area for the bartending station or sink. Make sure you have access to water, gas, and electricity.
3. Layout
Consider the available space when planning the layout. If you have limited space, a grill and a cabinet will be enough. But if there's extra space, you can add an island, a built in grilling station, an outdoor fireplace, a fire pit and several cabinets. If space isn't a problem, consider building an outdoor living room as well. That way, you can cook and socialize with guests at the same time.
4. Appliances
Outdoor pizza ovens, smokers, burners, and electric, infrared, charcoal, and gas teppanyaki grills can support your creativity and cooking skills. But when choosing appliances for your outdoor kitchen, it's best that you consider your preferred cooking style and level of entertainment. For instance, a multi-purpose grill that can grill, smoke, bake, and roast will showcase your skills and save space and money.
5. Lighting and Seating
Make sure there's proper illumination in the food prep, cleaning, cooking, and dining areas. Consider installing sconces over the bartending station and task lighting beneath or around counters. Apart from the lighting, you have to consider the seating area. Large tables allow guests to socialize without being bothered by their plates or drinks. You can also place a counter and bar stools near the bar and cooking area.
6. Storage
Outdoor kitchens are exposed to temperature fluctuations and dust. Thus, it's best to store non-food items like plates and utensils in plastic containers inside the cabinetry. Having a designated area for cleaning products is also a good idea.
7. Design Options
You can either match your outdoor kitchen with your indoor kitchen style or build a separate outdoor living space. Either way, you can choose from various design options. For example, stainless steel cabinets offer storage and additional opportunities for incorporating design through finishes and colors.
8. Budget
Your budget depends on your desires. For instance, a modest outdoor kitchen will be cheaper than a luxurious outdoor cooking space. You also need to consider the material quality, technologies, and utilities you want to install. High-quality materials and finishes are expensive, but they tend to last longer.
9. Conclusion
Designing outdoor kitchens can be an exciting yet challenging project that presents endless possibilities. Darden Building Materials can help bring your design plan to life. We can transform your backyard into a luxurious outdoor living space where you can entertain and cook sumptuous meals for your family and friends. We offer a vast selection of kitchen island accessories, barbecue grills, pizza ovens, and custom pieces. Contact us today!