There are several options for flooring. Vinyl and hardwood are two of the most popular types of flooring. Both have advantages and disadvantages, so it can be difficult to choose which is the superior option for your house.
In this post, we'll go through both hardwood and vinyl flooring in depth so you can make an informed decision about which type of flooring is best for you.
Outline:
What Is Hardwood Flooring?
The most prevalent form of hardwood flooring is composed of many wood species, with maple, oak, and cherry being the most frequent. There's no need to combine wood flooring with anything else when installing wood flooring.
For hundreds of years, homeowners worldwide have chosen hardwood as the flooring material. Its adaptability and obvious aesthetic appeal might explain why it's so popular. Individuals seeking a more genuine alternative to carpets may find it appealing as well.
Pros of Hardwood Floors
Many homeowners have used hardwood floors for centuries, clearly indicating that they offer many benefits. Here are some of the pros of installing hardwood flooring:
Easy Maintenance
One of the best things about hardwood floors is that they are easy to maintain. A quick sweep or mop will keep them looking great.
Durability
Hardwood floors are incredibly durable flooring and can last for decades with proper care.
Aesthetics
Choosing the appropriate hardwood flooring for your home is a difficult task. There are so many options to choose from that you'll be able to find one that looks great in your house. Wood floors provide you with the authentic look of natural wood.
Variety
There are various hardwood flooring options available so that you can find the perfect type for your home. Some of the commonly used hardwood floors are:
Cherry
Maple
Oak
Pine
Birch
Teak
Tigerwood
Improves Your Home Resale Value
Installing hardwood floors can also increase the value of your home. As a hardwood floor will last a long time, it is an investment that will pay off in the long run.
Cons of Hardwood Floors
Although hardwood flooring has several benefits, there are some disadvantages to consider. Here are some of the cons hardwood floors:
Can Be Damaged Easily
Hardwood floors are vulnerable to scratches and dents. That is particularly true if you have pets in your home.
Requires Regular Maintenance
To keep hardwood floors looking lovely, they must be continually swept and mopped. They may also require specific cleaners depending on the type of hardwood flooring you have.
Can Be noisy
Wood floors, especially those with many foot visitors in your house, can make a lot of noise. That may be a challenge if you have young children who need to take naps during the day.
Now that we've looked at hardwood floors let's look at vinyl floors.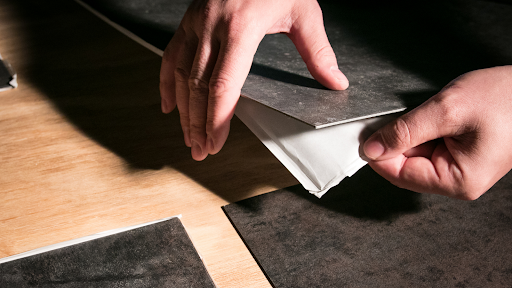 What Is Vinyl Flooring?
Vinyl flooring is made from a plastic called polyvinyl chloride (PVC resin) and is the second most popular type of flooring after hardwood. It comes in sheets, tiles, or planks and can be used in any room in your home, including the kitchen and bathroom.
Pros of Vinyl Flooring
Vinyl flooring is a relatively new type of flooring that has quickly become popular because it offers many benefits. Here are some of the pros of vinyl flooring:
Low Maintenance
Unlike hardwood floors, vinyl doesn't require any special cleaners or sealants. A simple sweep or mop will keep it looking great.
Easy To Install
Installing vinyl flooring is considerably less difficult than installing hardwood floors. If you're handy, you may even do it yourself.
Waterproof
Vinyl is water-resistant, so it's perfect for kitchens and bathrooms where water may be present. Vinyl planks are excellent moisture resistant and also makes them ideal for basements and laundry rooms.
Durable
Vinyl is one of the most long-lasting types of flooring available. With regular maintenance, it can last a lifetime.
Resistant to Scratches and Stains
Since vinyl is made from plastic, it is resistant to scratches and stains. That makes it an excellent option for families with pets or small children.
Cons of Vinyl Flooring
Vinyl flooring also has some drawbacks that you should know before deciding. Here are some of the cons of vinyl flooring:
Can Be Damaged Easily
Even though vinyl is highly durable, it can be damaged easily by sharp objects.
Not as Aesthetically Pleasing as Hardwood
Some people feel that vinyl floors don't look as lovely as hardwood or other types of flooring.
May Not Last as Long as Hardwood
While vinyl floors can last for many years, they may not last as long as hardwood floors.
Takeaway
So, what's the verdict? Although hardwood flooring is lovely and long-lasting when properly maintained, it may be costly. Vinyl flooring is affordable and comes in many different styles, but it isn't as durable as hardwood; depending on your personal preference and budget, which type of flooring will work best for you.
If you're still undecided or have any questions about flooring, don't hesitate to visit Darden Building Materials or call us today! We'd be delighted to assist you in selecting the ideal flooring for your home.