Choosing hardwood flooring can be a difficult decision. There are so many various hardwoods to pick from, each with its own set of characteristics and pricing. But before you start looking for hardwoods to buy, there are some things that you should keep in mind.
Here are seven of the most important characteristics of hardwood floors, so you can make an educated selection about which one is ideal for your home!
Outline:
Reason To Install Hardwood Flooring In Your Home
The first thing you should consider is why you want hardwood flooring in your house. Is it for the look, feel, or both? Some people prefer hardwood floors because they are durable and easy to clean. Others may like the classic look that hardwoods provide.
Whatever your motivation, keep it in mind while you're selecting between hardwood flooring.
Types Of Hardwoods To Consider
There are mainly two different types of hardwoods available. Each type has its unique qualities and characteristics, so make sure you choose the hardwood best suited for your home!
Solid Hardwood Floors
A single piece of hardwood is used to make solid hardwood floors. They come in different thicknesses and can be finished in various ways. One downside to solid hardwoods is that they can be expensive, and if they are scratched or dented, the entire solid hardwood flooring will need to be refinished.
Engineered Hardwood Floors
Engineered hardwood floors are made from multiple layers of hardwood that have been glued together. They cost less than solid hardwoods and can be refinished if scratched or dented. The disadvantage to engineered wood flooring is that while some claim to be as durable as solid wood flooring, others can't survive the same amount of usage.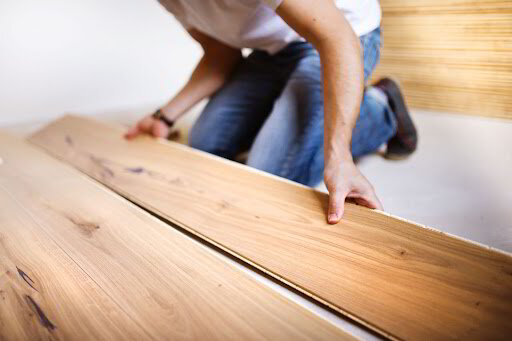 Width, Thickness, And Length Of Hardwood Flooring
When choosing hardwood flooring, you will also need to consider the width and thickness of the planks. Thinner planks are easier to install, but they can also be more prone to damage. Wider planks look more luxurious and create a more open feeling in a room. Plank width is also important to consider if you have pets or children, as they are less likely to scratch a wider plank.
When choosing hardwood flooring, you will also need to consider the length of the planks. Longer planks can be challenging to install and may require more cuts. However, they can create a more seamless look in a room.
Wood Species
When it comes to hardwood, you choose many different species. The most popular hardwoods are oak and maple. But there are also other options like birch, hickory, and walnut.
Each type of hardwood has its advantages and disadvantages that you should consider before making your decision. Some popular hardwood species include:
Oak
Americans choose oak as their primary wood. It's strong, stain-resistant, and has a beautiful natural grain that goes well with various colors. Red oak is the most popular type of oak hardwood flooring.
Birch
Birch hardwood flooring is a popular choice because of its mix of strength and beauty. Its natural grain gives rooms a rustic look, while the hard surface resists scratches and dents well.
Maple
Maple hardwoods are often chosen for their light color and unique patterns. They're also solid and durable, making them a good choice for high-traffic areas.
Pine
Pine hardwoods are often used in rustic or country-themed homes because of their natural color and grain patterns. They're also one of the most affordable hardwood options available.
Walnut
Walnut hardwoods are a luxurious choice for your home. They're dark in color, have beautiful natural grain, and are resistant to scratches and dents. Black walnut hardwoods are the most popular type of walnut hardwood flooring.
Hickory
Hickory hardwoods are one of the most durable hardwoods available. They're also a good choice if you're looking for hardwood with many characters or grain patterns. Its natural grain is highly variable, making each plank unique.
Types Of Installation
Don't forget that any contractor or company can install not all hardwoods -some types of woods need unique installation methods due to their size or weight! Before choosing different options, make sure that whoever installs hardwood floors can work with the hardwoods you'd like.
There are two common types of hardwood floor installation: floating and glued down.
Floating
Floating floors are attached to the subfloor with clips and glue. They're easier to install but may move a little over time and require occasional tightening of the clips with a hammer.
Glued Down
Glued-down hardwoods are fixed directly to the subfloor using an adhesive that hardens as it dries. These hardwood flooring installations tend to be more stable than floating hardwoods, but they also take longer to complete because you have less control over how much moisture is in your home during installation.
Price Of The Flooring
When it comes to selecting a hardwood floor for your home, the cost of the material will almost certainly influence which type or design you choose. For example, if budget is one of your primary concerns, pine hardwood floors might be best for you since they generally cost less than other types of hardwood flooring.
You can find cheap hardwood options that fit just about any budget. However, consider that more affordable wood may not be as durable or long-lasting as more expensive varieties. Thus it's essential to consider the overall quality of hardwood you purchase.
Wood Floor Finishes And Stains
There are many various types of finishes and stains available for hardwood floors, as well as numerous varieties of hardwoods. For example, wood floors can have a natural or oiled finish depending on how they were finished after installation.
Oil Finished
Wood is susceptible to stains and scratches when oil finishes permeate it. This finish, however, may make your flooring vulnerable to stains and dents.
Water-Based Finished
A water-based hardwood finish is the most common type of hardwood flooring. It's durable and won't fade over time, but it can be scratched relatively easily.
Lacquer Finished
Lacquer finishes are tough and durable, making them resistant to scratches and fading. However, they're hard to maintain and hard on the environment.
Stain Finished
If you're looking for a hardwood floor that has rich, beautiful color without sacrificing durability, then stain finishes are your best bet. These hardwoods can be stained with water or oil-based stains, which create different tones and hues over time as they age.
They can also either be left their original color or stained with colors like ebony black, cherry red, wenge brown, honey gold, dark walnut brown. The options are virtually endless when choosing what type of stain will work best in your home!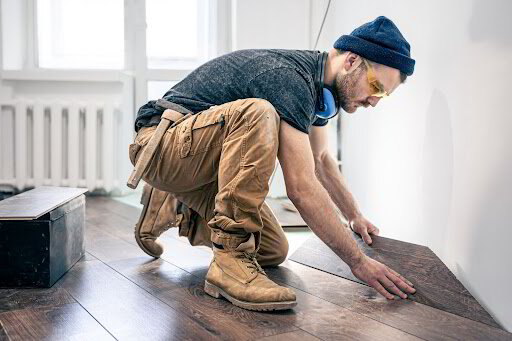 Hardwood Flooring Maintenance Required
Another detail to consider when installing hardwood floors is the proper maintenance required for your hardwood floors. Some hardwoods require less care and cleaning than others, while some varieties may require more upkeep and effort regularly.
Consider how much time and work you want to put into your hardwood flooring before making a decision!
Your Local Flooring Pros
At Darden Building Materials, we understand that you want to get the best flooring options for your home. That is why, if you have any concerns about upgrading from carpet or vinyl to hardwood floors in a living room, kitchen, or bedroom, we are here to assist.
We can walk through all the options available in terms of wood species and style before helping you decide which choice is right for your space. Give us a call if you believe time has come for new flooring in your house but don't know where to begin